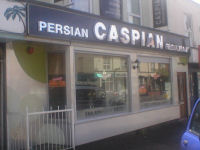 Reviews of Caspian Restaurant
Type(s) of Food Served
Mediterranean / Persian
Description
A warm and welcoming place with special Persian/Mediterranean cuisine.
Food Service Times
Monday - Thursday: 12PM - 2:30PM and 5PM - 10PM
Friday & Saturday: 5PM - 11PM
Sunday: 12PM - 10PM

Last seating: 11PM
Special Offers
Yes - evening buffet Fridays and Saturdays £10.00 per person; parties of 12 and more one eats free; group of 5 students receive £10.00 taxi fare discount.
Amenities & Facilities
Credit/debit cards accepted?



Bring Your Own?
Restrictions (e.g. wine only) and a corkage fee may apply. Please enquire for details.
Average starter price?
£3.50
Average main course price?
£8.00
Average dessert price?
£3.50
Special diets catered for?
Gluten-free
Nut-free
Dairy-free
Child facilities?
Child portions
Ralph Liam -
Rating:
This restaurant was an asset to the area but sadly has (as of August 2016) closed. Thanks to the staff who cooked and served there. It was always friendly and excellent value for money.
Paula -
Rating:
The interior decoration was simple and inviting. The atmosphere was nice. Helpful an kind waiting staff serving delicious food. Prices were really reasonable.

Would certainly visit again.
Julio -
Rating:
The place has recently been taken over. Very nice re-decoration and fantastic food. The level of service is very satisfying, too.

Great food, and weekend evening buffet is a pleasant experience. Highly recommended.

I will definitely go back and recommend everyone to try the authentic food and nice and welcoming service.
Selina -
Rating:
One word to sum up this restaurant: disgusting. There are many reasons for this and are as follows:

1. Our whole party had arrived and were ready for ten-to-7. Being a restaurant we have never been to before we ordered at around quarter past. The waitresses were incredibly rude in taking our order and when asking if I could swap the rice for chips, I was ignored repeatedly and she kept insisting on giving me naan. I had to ask 5 times to finally get what I wanted.

2. The food took two hours to arrive, I kid you not, repeatedly asking after the first forty-five minutes how long the food would take we got unclear replies and no proper answers.

3. The first thing we ordered was drinks (soft e.g Coke) and they even took an hour!

4. When the food finally did arrive I found to my diapointment it was incredibly bland and greasy. Upon asking for sauces the waitresses sounded exasperated and annoyed at a request I think was pretty normal.

5. After eating the food we requested a bill. They refused to give us the actual receipt and decided to verbally tell us. If there are 20+ people I should expect the bill because I think it's easier to get ripped off. Again we persisted and she finally gave it us only to find out she was charging us £4 more, it may not seem like a lot but it is the principle of it.

6. We had a birthday cake to cut in celebration, they refused to clear the table so we could actually get processions going.

7. Upon entering the restaurant the tables set out were so difficult and offering suggestion after suggestion they refused to move the tables and we all had to sit separately in groups of fours and six.

Overall I am extremely disappointed in this "restaurant" and urge you not to go.
Sadjida Carter -
Rating:
We get there around 7PM, we take a while to figure out what to want to eat, since girls take a long time to decide. Finally order around 7:20PM and we all ordered the "Chello Kebab Koubideh".

We asked if we were able to rearrange the tables to fit all of our group, even with many suggestions the waitress wouldn't budge. Also when ordering food, my friend wanted chips with her meal as opposed to rice, yet the waitress ignored what she said and was rude. In the end she got her chips.

We waited and continued to wait, we asked several times but never any clear answers, and people who had come way after us also got served before us.

Finally the food came at 9:10PM, nearly 2 hours late, which was just appalling. There was no apology, either. The lamb kebab thing turned out to be the oiliest thing I think I've ever ate and the rice was dry. Just an unappealing meal, which definitely wasn't worth the wait.

The bill even took ages to come. They were unprepared as we needed change but yet couldn't provide it to us.

Overall an appalling customer service, food and overall experience I had there. The best part of the restaurant was leaving it.
Sarah -
Rating:
Excellent food. Warm, prompt service. Still not been discovered, so roomy and quiet. Very good prices. I think this is my favourite restaurant for atmosphere, price and tasty food.

Only time I don't go there is when people with me don't like Persian food.
Mehran Afshar -
Rating:
Really good. I was surprised to find an Iranian restaurant serving high quality Persian food in Sheffield, as all of the other Iranian restaurants in Sheffield were very disappointing.

I am Iranian myself, so I know the food inside out, and have eaten at some of the best Persian restaurants in the world, including Tehran. Although I can't honestly say this one is to that standard, for the UK it isn't bad at all. And the atmosphere and service was warm and welcoming.

I don't usually write reviews but I was so pleasantly surprised that I felt obliged to write a review... very, very good... make sure you go!
Amanda James -
Rating:
Wow! Why is this place not full every night? The restaurant feels warm and inviting, and we were offered a small plate of walnuts and olives at our table.

We decided to choose different foods so that we could swap. We had warm starters, which incorporated aubergine. These were a sort of dip and were accompanied by generous portions of a flat bread.

For mains we had the lamb fillet kebab and a chicken casserole in a pomegranate sauce. The lamb fillet was so tender and the stew was tasty with a sweet but earthy flavour - very tasty! Both of the mains were accompanied with rice and salad.

We were absolutely stuffed (beware the delicious bread) so didn't have a dessert. We finished with a glass each of Persian tea. The service was attentive without feeling we were being rushed.

Oh, forgot to say, it's BYOB [ed: bring your own booze] and I don't think they charged corkage. Our total bill was under £30. Altogether excellent, with only one criticism - enough with the James Blunt CD!
Eaten at Caspian? Write a review!
Anonymous reviews, reviews using nicknames or reviews sent from invalid email addresses will not be published.