Franco's Pizzeria Restaurant
253 Crookes
Crookes
Sheffield
S10 1TF
Telephone: 0114 2665245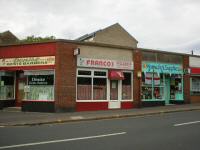 Reviews of Franco's Pizzeria Restaurant
Type(s) of Food Served
Italian
Thornton Lambert -
Rating:
I now live in Florida but if there is one thing I miss, it's Franco's pizza fresh from his pizza oven and served in the friendly little restaurant in the University district of Sheffield.

The pizza dough is hand-rolled, the toppings fresh and plentiful and the cooking is to perfection, just the right crust. An added bonus is that one can take one's own wine. It's one of Sheffield's jewels. Nowhere in the world have I had a better pizza, and that includes Italy.

When ever I am back in the UK, it's a must.
Eaten at Franco's Pizzeria? Write a review!