Tin Tin
30-32 London Road
City Centre
Sheffield
S2 4LN
Tel: 0114 2758880
Email: Click Here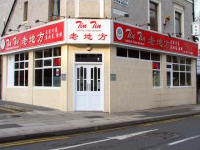 Tin Tin Reviews

See also: the Tin Tin profile page.
Ellen - 19th November 2010
Rating:
Maybe we hit this restaurant at the wrong time, apparently Chinese graduation, so it was busy!

The food was good, the staff were very hard working, BUT... it just seemed very badly managed.

My starter came out at least 10 minutes before my partner's starter, and when my partner's starter finally arrived they brought out all the rest of the main courses as well! Again the food was good and I couldn't fault the staff for trying, but it just seemed very poorly organised.

The lighting and decor wasn't up to much, either. It seemed too bright and a bit worn out (mold was spotted in the corner of one of the windows).

Unfortunately, even though our food was good, after our experience here we will not be returning or recommending this restaurant.
Chris Hanson - 17th January 2010
Rating: (Not rated - review added before star ratings introduced.)
Best Chinese I've had in a long time. I went for a works leaving party and enjoyed every part of what is a truely authentic Chinese meal.